We can help you find work
If you're autistic, have a learning disability, or are receiving help for a severe mental illness and want to find work,
the Working Well Specialist Employment Service can help.

Our support is quick to access, free to use, and matched to your needs.

We can help you to:
Create an action plan
With your
Employment Specialist
Search for jobs
Including work trials
and placements
Stay in work
With ongoing
support
If you're aged 18+ and can answer 'yes' to these statements, then we are here for you:
I'm unemployed and live in Bolton, Manchester, Salford, Trafford or Wigan

I'm receiving help for a severe mental illness (via secondary mental health care services)

I'm autistic or have a learning disability, and receiving help from adult social care

I'm not on any other employment programme.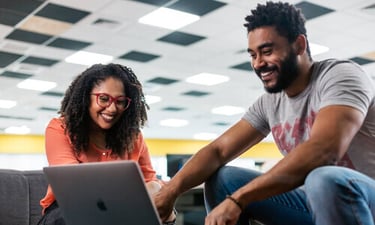 Call us today on 0300 456 8136 (local rate call)
Work with us
If you are an employer, visit our dedicated partner portal to find out how we can help with your recruitment needs.
If you would like to work with us, join our Community Partnership Network by visiting https://www.maximusuk.co.uk/CPN
We've already helped thousands of people

like you
"It's such a nice feeling working again and earning my own money. I'm determined to make a good impression to get a permanent contract with my new employer.

"